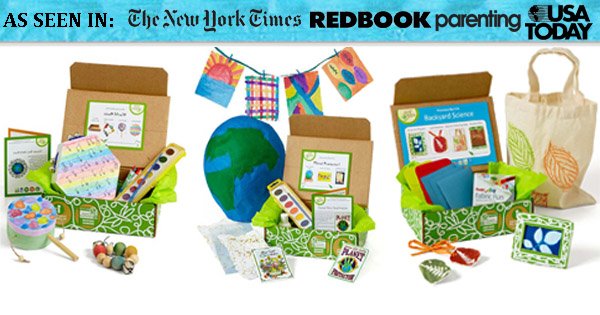 Green Kid Crafts delights tens of thousands of kids across North America each month with fun and eco-friendly craft and STEM activities delivered right to their door through our company's craft subscription box program. Kids are sent a monthly Discovery Box, which is packed with between 5-8 activity kits designed to foster a child's creativity and confidence. Each month brings a new theme; past themes have included Mad Scientist, Nocturnal Animals, Around the World, and Outer Space. Our team of kid testers help design each Discovery Box as well as the fun activities and projects for our blog like this one!
Bottle Cap and Cork Ornaments
Here at Green Kid Crafts, we love to find new ways of giving every day items new life in ways which inspire our children to create and encourages them to be mindful of the environment. This simple Christmas ornament craft can be made with things you already have at home. Been enjoying some Holiday Spirits? Don't throw those bottle caps and corks away just yet! For this craft, I scavenged some wired ribbon from my box of old hand-me-down decorations and, with a little bit of hot glue and imagination, created a one of a kind personalized ornament that will look beautiful on your tree or as a tag on a gift. These DIY Christmas Ornaments will be heirloom treasures for years to come.
DIY Christmas Ornament Crafts
Materials:
Cork or beer bottle cap
Ribbon
Hot glue gun
Ornament hook
Paper
Pen
Instructions for making a DIY Christmas Ornament
Cut an 8-10 inch length of ribbon. Any kind will do, fabric or otherwise.  Fold it in half and secure in two spots with hot glue leaving a loop at the top. If you've been enjoying a lovely grog or bottled cider, use the cap to trace a circle on paper which will fit on the inner surface. If you've got a spare cork, use a kitchen knife to cut it into slices. Personalize your cork or cap, hot glue them to the ribbon, and attach your ornament hook. What a great way to create something special for friends, family, or teachers with upcycled items from around the house.
If you're not already a Green Kid Crafts subscriber, don't wait another day to join!
From $16.95 / month! Monthly boxes come with 4-8 award winning Creativity and STEM Science Kits (science, technology, engineering, and math) designed by experts around national standards to build confidence, flex creativity, and make kids smarter. All materials and instructions included, along with some fun extras! Each Discovery Box is created around an exciting new theme each month (think Outer Space, Nocturnal Animals, Backyard Science, Ocean, and Mad Scientist). You can cancel anytime. Join Green Kid now and save 25% off your first month with code BLOG25.