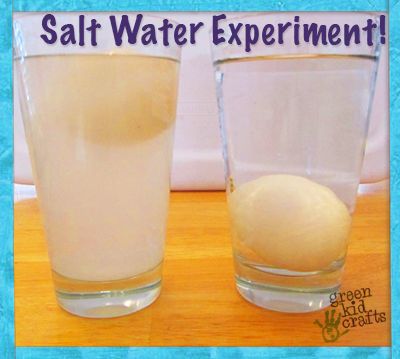 Looking for a fun after school activity to do with the kids? Explore density with this fun salt water experiment!
Supplies:
Table salt
Two clear glasses
Tablespoon
Tap water
Two raw eggs
Instructions:
Fill the two glasses with tap water.
Add about 6 tablespoons of salt in one container and stir it well with a tablespoon until the salt has completely dissolved in the water.
Place one egg in each of the containers and observe which one of the eggs float in the container and which one sinks.
How does it work?
The first egg sinks to the bottom of the glass of regular tap water. This is because a raw egg has a greater density than regular tap water. Essentially, the egg has more matter stuffed into a specific area (volume) than the same amount of water. When you add salt to the water, you increase the density. That is to say, the salt packs into the same volume of water. With enough salt added to the water, the density of the water is greater than the egg, allowing the egg to float.
If you're not already a Green Kid Crafts subscriber, don't wait another day to join!
From $16.95 / month! Monthly boxes come with 4-8 award winning Creativity and STEM Science Kits (science, technology, engineering, and math) designed by experts around national standards to build confidence, flex creativity, and make kids smarter. All materials and instructions included, along with some fun extras! Each Discovery Box is created around an exciting new theme each month (think Outer Space, Nocturnal Animals, Backyard Science, Ocean, and Mad Scientist). You can cancel anytime. Join Green Kid now!